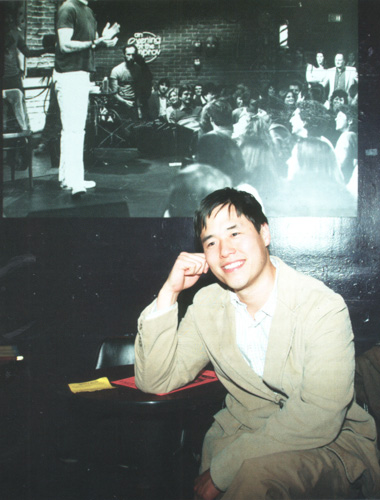 Name
Randall Park
Occupation
Actor, Comedian, Writer
Own Words
I was born and raised in Los Angeles. I love food. And beverages. I love animals. Though I will eat some of them from time to time. My favorite music is rap. My favorite rap group is the Clipse. Even though all they rap about is drug dealing, I think we can all learn something from their relentless work ethic. Kind of reminds me of my parents, except my parents never sold crack. My mother is an accountant and my father sells cocaine. My favorite book is Ken Kesey's One Flew Over The Cuckoo's Nest. I like that the name of the main character is 'Randle P. McMurphy'. 'Randle P', like 'Randall P'. I think that's pretty dope. Speaking of dope, I was joking about my father. He runs a souvenir shop on Hollywood Boulevard. I love my folks. They work almost as hard as the Clipse. I also love my wife, Jae. She's Korean. Yes, I kept it real. My favorite movie is 'When Harry Met Sally'. In other words! , I'm 35. And I'm very feminine. You know who else is feminine? My wife Jae. Wouldn't it be a crazy coincidence if instead of 'Jae', her name was 'Nurse Ratched'? That would be really weird because what kind of Korean parents would name their daughter 'Nurse Ratched'? Parents who think like me, that's who. I want to name my future daughter 'Nurse Ratched', and my future son 'Future Son'. I actually do have a middle name, and it's Korean - 'Do Suk'. Yes, my middle name kept it real. Shout out to my brother Dan and also to my partners in crime. Ya'll know who you are. They have no idea who they are. Okay, I don't know what to write anymore. This is getting long and awkward. That's what she said. I think this project is really great, and I'm very proud to be a Korean American.
Please go to my website if you want to learn more about me.
Popular Locations
Latest From Our Blog

Latest Tweets
Join Our Mailing List
We'll be sending infrequent emails about new features, fun events, and cool merchandise. Sign up and be in the know!