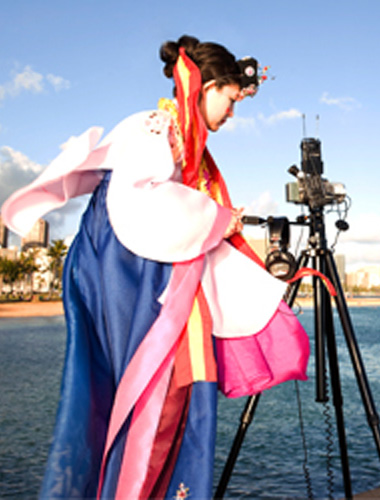 Name
Maria Yoon
Occupation
Performance and Video Artist
Own Words
I AM MARIA THE KOREAN BRIDE:

I am Korean born. I am not comfortable being labeled as a korean, nor am I comfortable being labeled as a Korean American. My features are so Korean that I really should send my photos to Wikipedia so the uneducated can see what a real Korean looks like.
My heart is confused. Am I Korean? Am I American? Am I Korean-American? What do these terms really mean? I want to embrace my culture and roots and at the same time I am not sure I have the discipline to do so. I am not sure this is me. My parents still cling to the old values.  I know these values are important. I am not sure these values are me. I am conflicted. Things seem so simple to them. Black is black and white is white. It should be so simple. Why do I always see gray? Maybe I should have been a doctor. Maybe I should have been a lawyer. Maybe I would have been happier. Why does good art always require sacrifice? Perhaps the harder life gets the better my successes feel. Isn't this Korean. I persevere. I am always attacked by those who do not understand me. I stand my ground. My work is me. I refuse to compromise. Maybe I am more Korean than I think.
My work is a statement. I am "Maria the Korean Bride." I have courage. I am a Korean-American. I am an artist. I have something of value to say. Will you listen? www.mariathekoreanbride.com
Popular Locations
Latest From Our Blog

Latest Tweets
Join Our Mailing List
We'll be sending infrequent emails about new features, fun events, and cool merchandise. Sign up and be in the know!