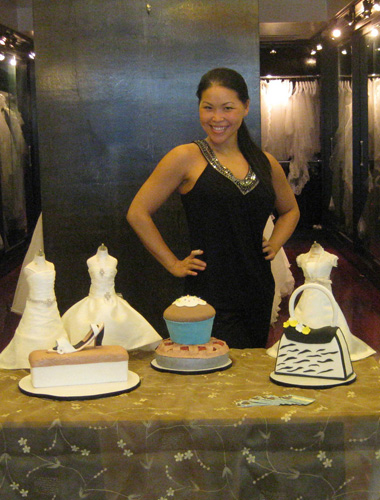 Entrepreneur's Name
Christine Jeohn
Company Name
Company Size
1-10 employees
What does your company do?
Cakes By Christine NY specializes in custom designed cakes and cupcakes for weddings, special occasions and children's parties, serving the NY area.
When and how did your company start?
I ran into cake making by accident, LITERALLY. My background is in violin performance and when I met my husband, (another fellow baker) he asked for my help when he first opened his store (Swings Sweets Italian-American Bakery). I enrolled in The French Culinary Institute, not knowing a thing about baking. I discovered SO many other aspects of the industry other than just baking pies/muffins and fell in love with the beauty of specialty cake designing. When we sold our bakery back in 2009, I still received tons of orders and hence, I offically started Cakes By Christine NY.
What's been one of the hardest challenges in running a business?
Aside from the long hours and sleepless nights, I've learned that you will never please every single person and that bothers me the most about this business. Out of all the orders I've had, I think I received 1 or 2 complaints and it bothers me for weeks. Aside from loving what I do, I do it to make people happy, not to upset them so when I see an unhappy customer, it literally ruins my whole week. I am a hard critic on myself to begin with so when I get an unhappy customer, I beat myself up over it.
What do you enjoy most about your work?
I think if I had to pick one thing, I would say that I feel like I hit lotto. Anyone who knows me for a long time knows that I've always been very indecisive about my "future." When kids are little and you ask them, "What do you want to be when you grow up?" A lot of them belt out an answer: "ASTRONAUT!" "DOCTOR!" "LAWYER!" *I* belted out.. nothing...
Although I've played the violin for most of my life, I never knew what I wanted to do with my life. One day I wanted to be a dolphin trainer, the next day I wanted to be a police officer. I've changed majors more than I've changed underwear. My friends joke about it all the time. "Let's see how long Christine sticks with it this time..." To be totally honest, I get very easily bored and it takes A LOT to hold my attention.
So I feel very blessed that I finally found something that I truly enjoy doing. But then again, who knows... Maybe tomorrow I might want to be a skydiving instructor.. Hehehe...
Advice for people looking to start up their own business?
I always offer advice to people who want to start a business in cake designing. Start slow and small. Never take on more than what you can handle because quality is definitely a bigger deal than quantity. You see so many businesses that "used to" be awesome, they get big and all of a sudden their quality stinks. You don't want to be "that" business. And always use the best quality. It won't kill your pocket and TRUST ME, people WILL notice...
Popular Locations
Latest From Our Blog

Latest Tweets
Join Our Mailing List
We'll be sending infrequent emails about new features, fun events, and cool merchandise. Sign up and be in the know!