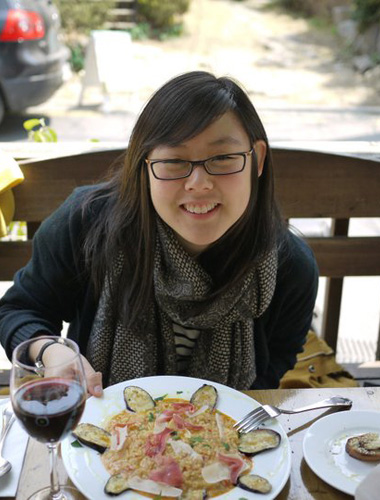 Name
Lia Bengtson
Own Words
Less than three months ago, I was living with a host family on a small mountaintop in Hongdae, which hosts one of the biggest clubbing scenes in Seoul. I have moments when it still blows my mind that I'm back in the States, in graduate school, nonetheless.

I am one of the more than 10,000 adoptees from Minnesota. I was raised in a Jewish household in the suburbs of St. Paul, and spend my childhood weekends going to Korean school on Saturdays and Hebrew school on Sundays. I feel I was fortunate to grow up in Minnesota with its large adoptee community and many resources. I spent my summers going to Korean Culture Camp and discovered one of my passions, Samulnori, traditional Korean drumming, during my middle school years.

My interest in Samulnori is really what made me delve into Korean language and culture. I studied abroad during college at Yonsei University for a semester, and have gone back two more times since college graduation for extended periods of stay to study Korean language and drumming.

I spent my most recent stint in Korea studying Korean at Sogang University, living with a Korean host family and teaching English through the Holt Homecoming program, and volunteering and teaching ASL (American Sign Language) to deaf middle school students at a deaf school in Seoul.

I think my brain is still playing catch-up on what language to use at the present time. In the past three months since I have come back to the States, I have completed a month long intensive ASL summer course in DC, taught Samulnori at a Korean language immersion camp in northern Minnesota, and am now back in Washington DC, at Gallaudet University, the only university for the deaf in the world, getting my MA in Deaf Education.

People often ask me why I spent so much time in Korea and what connection it has to my professional future; honestly, I can't really answer them at the current moment. However, I think that all life experiences bring something to the table and know that somewhere down the line I will start to connect the dots. I am really excited to see what the future brings and where my interests in Korea and deaf education will converge.
Popular Locations
Latest From Our Blog

Latest Tweets
Join Our Mailing List
We'll be sending infrequent emails about new features, fun events, and cool merchandise. Sign up and be in the know!