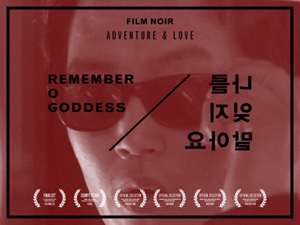 Project/Cause Name
Remember O Goddess
Website
Contact
Description
PROJECT
We are launching a Kickstarter fundraising campaign for shooting and postproduction of our feature film project, REMEMBER O GODDESS, filming later this summer. We have finished the first 25 minutes of the film and hope that we will be able to raise the funds for the rest of the film. The short version has been shown in several film festivals in the US and Korea. Luckily we have received great feedback. So we'll be ready to complete the rest of the film only if you support us.
STORY
In the middle of the night, a man reports the disappearance of himself to the police office. He has lost his memory. He can only remember from the moment he found himself left alone in an apartment. He tries to find any clue as to who he might be, but nothing comes out. When he plucks up the courage to go out, he meets a girl at a convenience store, who he thinks might know him. Instantly she becomes his only hope and joy, but when he returns, she has disappeared. Then his quest to find someone who remembers him becomes greater than his need for his own memories. Will he be able to reconnect with a lost love?
GET BEHIND US
Please visit our Kickstarter Campaign: http://kck.st/HbwfF7
Become a backer and/or spread our campaign as far and quick as possible. Click on the green button that says 'BACK THIS PROJECT,' and pledge as much as you can happily afford. Before you make a choice, read the reward description carefully since you are eligible to receive different kinds of rewards according to your pledge amount.
Popular Locations
Latest From Our Blog

Latest Tweets
Join Our Mailing List
We'll be sending infrequent emails about new features, fun events, and cool merchandise. Sign up and be in the know!