What's your story?
I AM KOREAN AMERICAN showcases the diversity and many interesting personalities of the Korean American community. Learn more about this site »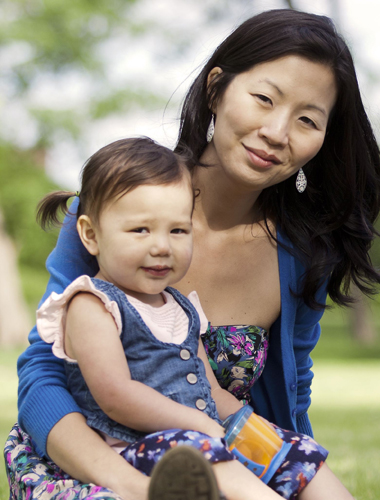 Name
Sara Docan-Morgan
Occupation
Professor, Mother, Partner, KAD
Own Words
"Where are you from?"
I like to answer this question with where I grew up: South Dakota. But I know that people who ask the question want to know whether I am Japanese, Chinese, or Korean. The question itself used to trouble me more than it does now. As a child and adolescent, I wanted so much for people to see the American part of my identity and ignore the Korean and adopted parts. As I've gotten older, read more, met more people, and traveled internationally, I have become more comfortable with people's discomfort when others don't fit into "neat" identity categories.
I was born in Pocheon, South Korea and was adopted at four months old. I was adopted into a loving, steadfast, and, of course, imperfect family of two parents and two non-adopted sisters. In 2009 I met my Korean family, and we are still in contact.
My experiences, both personal and academic, have led me to focus my research on Korean adoptees. Specifically, I have examined adult Korean adoptees' relationships with their birth families and their adoptive families, and the messages that build, maintain, and challenge these relationships. I'm also interested in how messages about race and difference affect adoptees' personal and familial identities. My conversations and interviews with other Korean adoptees have been enriching, poignant, and profound. A few places my work has appeared include the Journal of Social and Personal Relationships, the Journal of Family Communication, and the Journal of Korean Adoption Studies.
I am proud of being a Korean adopted American. This identity has given me compassion, resilience, and the ability to live in-between cultures and families.